Businesses are constantly looking for ways to effectively optimize costs and resources and stay competitive.
To put this idea into perspective, let's take a look at some interesting statistics for the Canadian business process outsourcing sector.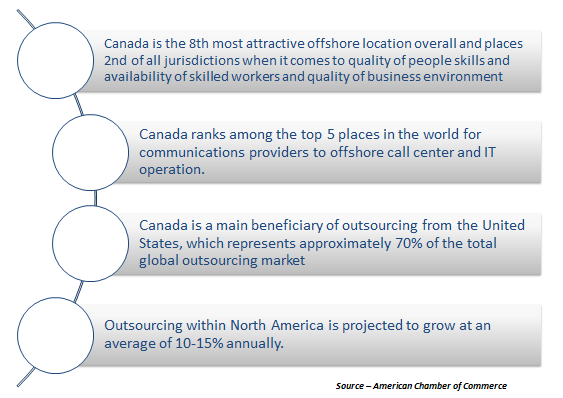 Now, while the above statistics are more relevant to a global outsourcing scenarios where international businesses are making use of Canada's proficiency in offering high-skilled offshoring services, the key takeaway from this is the way in which companies are warming up to business process outsourcing services.
And much like it is on a global scale, business process outsourcing proves to be a win-win situation closer to home where it's quickly becoming a preferred option amongst businesses of all types and sizes.
Business process outsourcing essentially involves contracting with a third party to perform specific tasks or projects on a company's behalf, such as customer care, back office solutions, network security, disaster recovery planning and much more.
In the past, business process outsourcing providers offered only basic services such as technical support and call center tasks. However, with the tremendous scope it offered in terms of cost and resource optimization coupled with the availability of high-skilled labor, more companies are now looking to outsource specialized tasks and activities.
Outsourcing projects helps companies and organizations to better manage their day to day operations and helps them focus on their core business rather than deploy time, money and resources to manage support functions.
For instance, the founder of an internet marketing (IM) startup firm found himself and his core team spending way too much time and effort tending to a myriad of back office functions. And like all startups, he too operated with limited budget and resources.
Outsourcing his back office functions freed up a considerable amount of bandwidth which he could easily utilize to focus on other critical aspects of running his business – namely product and business development. The fact that the company he chose to outsource to was a Canadian firm employing quality local resources made it relatively easier for him to map his requirements and get things done just the way he wanted.
And just like the IM startup, there are many small and medium-sized business owners who have started to realize the benefits of outsourcing.
While the list of benefits can be endless, here are the key reasons why BPO can be an effective way of controlling costs and staying competitive:
Reduce Cost Incurred on Labor – The Number One Benefit
Businesses that outsource their support functions are able to make significant amount of savings on resource and labor. Outsourcing your non-core business functions has been shown to reduce costs by up to 35%. And this doesn't necessarily include other aspects of resource management, including training, hiring, and telecommunications.
Access to Specialized and High-Skilled Resource Pool
Because outsourcing service providers continually invest in specialized processes and resources, they are able to perform tasks far more efficiently resulting in better management of your company's non-core functions. Business process outsource companies can access and assign highly skilled labor from local or offshore markets that give you access to a diverse talent pool that you would otherwise find to be difficult and costly to acquire.
Focus on Your Business
Hiring a third party provider to handle certain aspects of your business allows you to focus on the primary purpose of your business. You can carry out functions related to sales and marketing rather than focus on activities such as IT infrastructure, customer support, payroll and accounting. So, by using an outsourcing service, you will have all the time you need to concentrate on business development and strategy.
Improved Productivity
Outsourcing allows a company to achieve improved efficiency, quality, and turnaround time. Because outsourcing service providers take care of other organizations' non-core processes, they have gained the necessary resources and expertise to achieve better process management, improve customer satisfaction, and adhere to service deliverables.
Summary: Business process outsourcing is a great way to increase efficiency and productivity within an organization. You can use an outsource service to complete various tasks including technical support, POS/retail network support, back office support, multichannel customer care, and accounting services. While there are many companies that offer business outsourcing services, you need to choose the one that best suits your business goals and objectives.

Learn more about NetPulse's business process outsourcing services: